It was a blur!
15, 000km in 28 days
The 1979 Repco Reliability Australia was the last great Around Australia rally. A tradition that had started from the 1953 Redex trial. Led by Brock, a clean sweep by the HDT team made it a commercial success for Holden. 19,000 kms in two weeks. A low finish rate, two fatalities and extreme fatigue made this a dangerous, gruelling and relentless rally that could no way be recreated.
I first heard about the 2019 Retrial event some eighteen months prior. For the 40th Anniversary of 1979, the Retrial was not a race nor a 'rally' as such, but a social rally over some 15,000km. Whilst non-competitive it was certainly still an endurance challenge for aging cars (ours was 60 years old) and naïve and inexperienced rally drivers like us. It would be fun we thought. An adventure. It was both. It was also exhausting, at times frustrating, but ultimately unforgettable.
For the event we originally bought a Porsche 924. The only real requirement was that the car had to be pre 1979. Our unloved 'cheap' water-cooled Porsche had delightful handling but was pretty slow and sounded like a truck. Rust problems later became evident and combined with electrical gremlins signalled our lack of confidence in Deutsche reliability. We set out to source a bullet-proof and tough replacement rally machine. Something rather simpler and of course British.
We quickly disposed of the 924 and found fire-breathing Floris on eBay. A 1959 Series 1 Riley 1.5. Whilst the car was in solid shape mechanically, it is in no way near concours nor totally 100% original, so we didn't feel too bad for using it for this event.
The idea of using a rare and unlikely car also had its appeal, as expectations of competition or achievement from others would be low. Many man hours and even more dollars were utilised preparing the car to meet the demands of Australia's toughest dirt roads and tarmac stages. We received no sponsorship for this event, instead we set out to raise funds for Drive Against Depression. A Melbourne-based charity that provides mental health services and support for those who have a passion for cars and driving.
Leg 1: Melbourne to Perth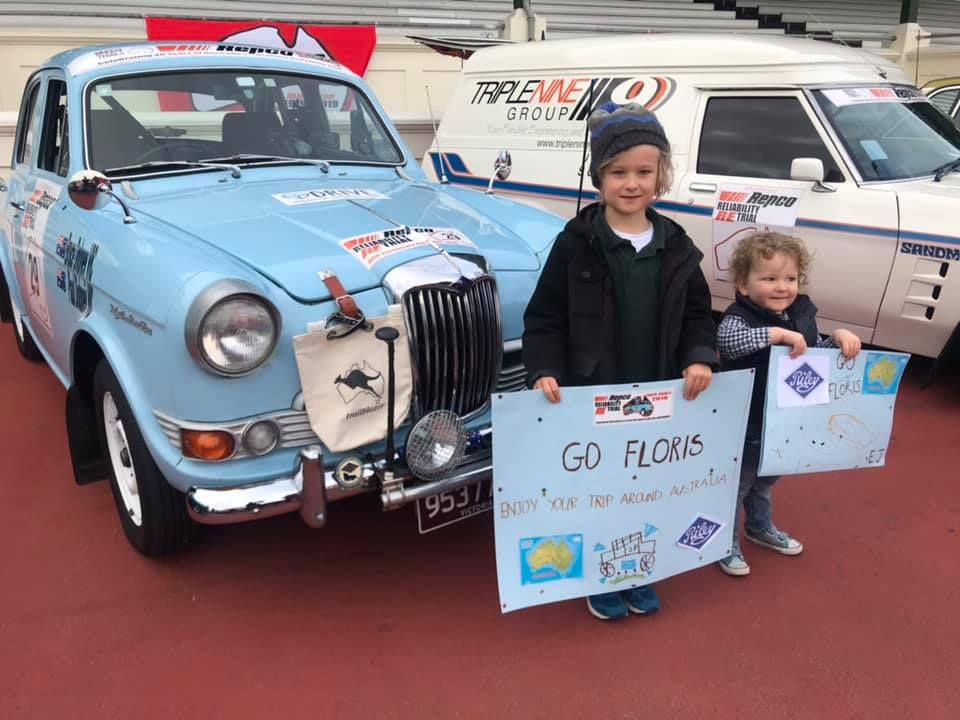 Just like in 1979 we set off from the Melbourne Showgrounds. Same day and same time as the original. It was an exciting spectacle as forty-five entries listened with anticipation to Bev Brock recounting her experience of '79. Barry Ferguson (2nd Place in 1979) set us in the mood for an epic adventure to come. Floris looked totally inadequate against a field of tough and well-prepared vehicles, mostly muscle and GM cruisers. Day One saw us make our way to Port Fairy via Melbourne airport and then 'Mad Max' country. But first we did get lost out of the Melbourne Showgrounds carpark. We weren't the only ones! Each day we received navigational pace notes with varying degrees of difficulty.
In the afternoon we took the brilliant 1979 Original Rally Stage 'Heywood'- 70kms of exciting forestry tracks, entering into Mount Gambier at night.
Day two to Nuriootpa saw the 1979 'Mil Lel' and 'Tarpeena' Original Trial Stage. Here, we had an off-track excursion, spinning out on the light clay corrugations and hitting a star post. It was certainly a brown-trouser moment! Floris now wore a nasty battle scar on its front fender for the remainder of the trial. With its picturesque views and twists and turns, the roads of the Barossa Valley were a delight.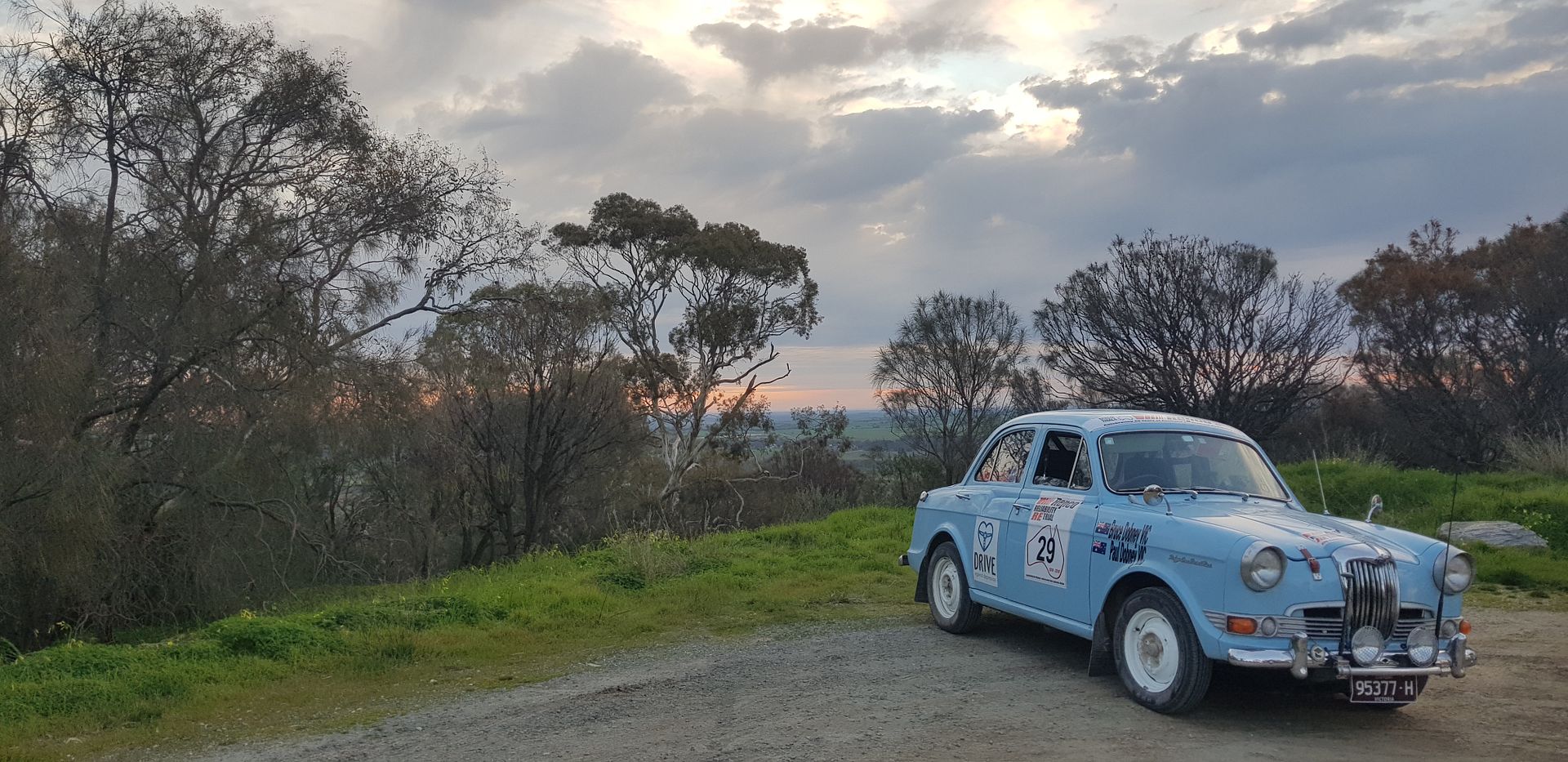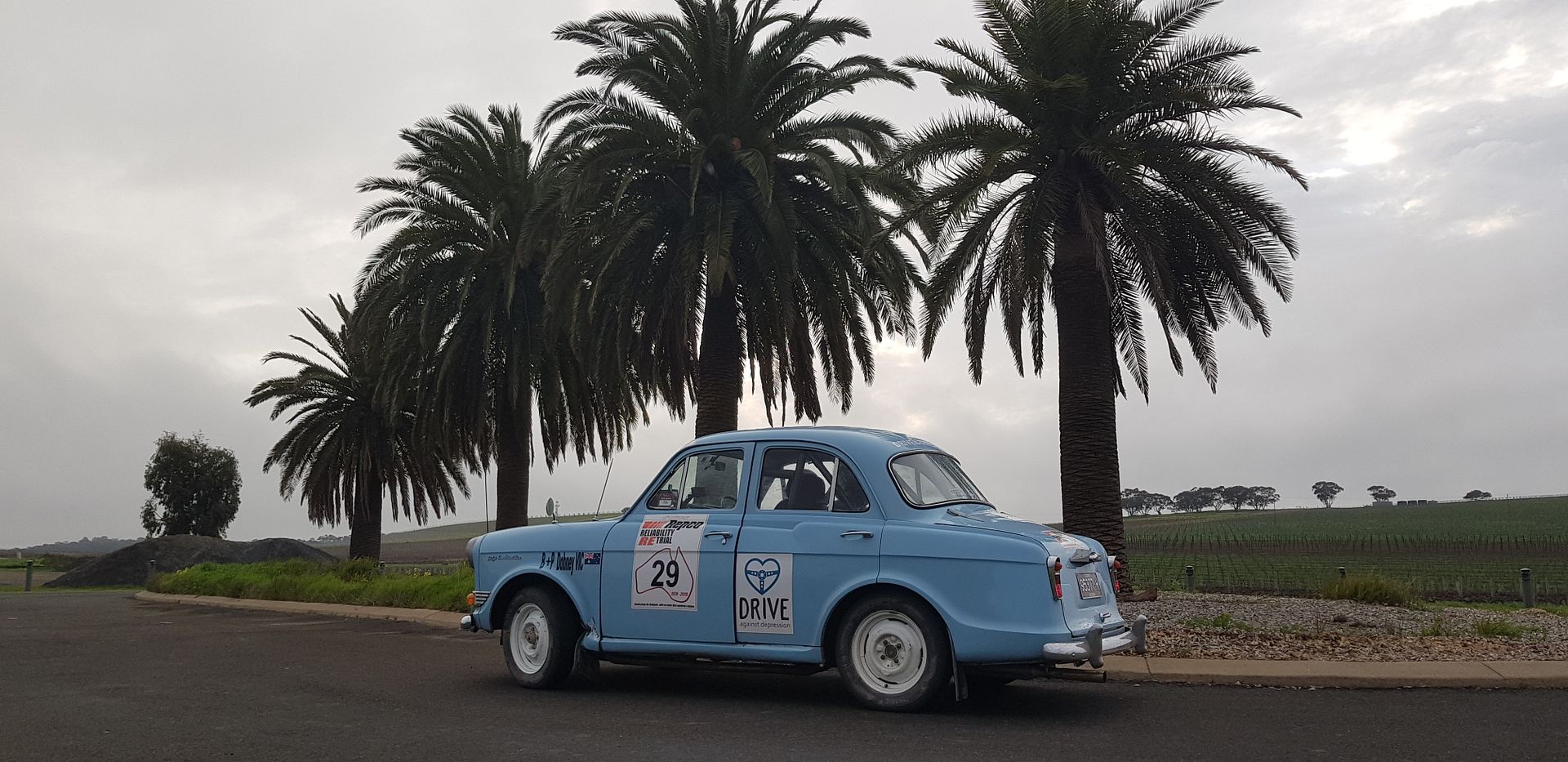 On 'Possum Kipling' Day 3, we were feeling good with economy and speed. We had a special moment in Port Wakefield, where we paid tribute to original competitor and character John Kipling. The early off-road new trial stages were enjoyed. A familiar sight was seeing the menacing headlights of the brute-like 1929 Chrysler 75 of Bruce Washington and navigator Andrew Davies approach then pass in a cloud of dust. Unfortunately, 'Floris' failed to proceed near Kimba. Suspected fuel pump and coil issues were attended to, but, with fading light, thanks to Support 1 and Management 4 we were towed to Ceduna. The electronic distributor was changed overnight.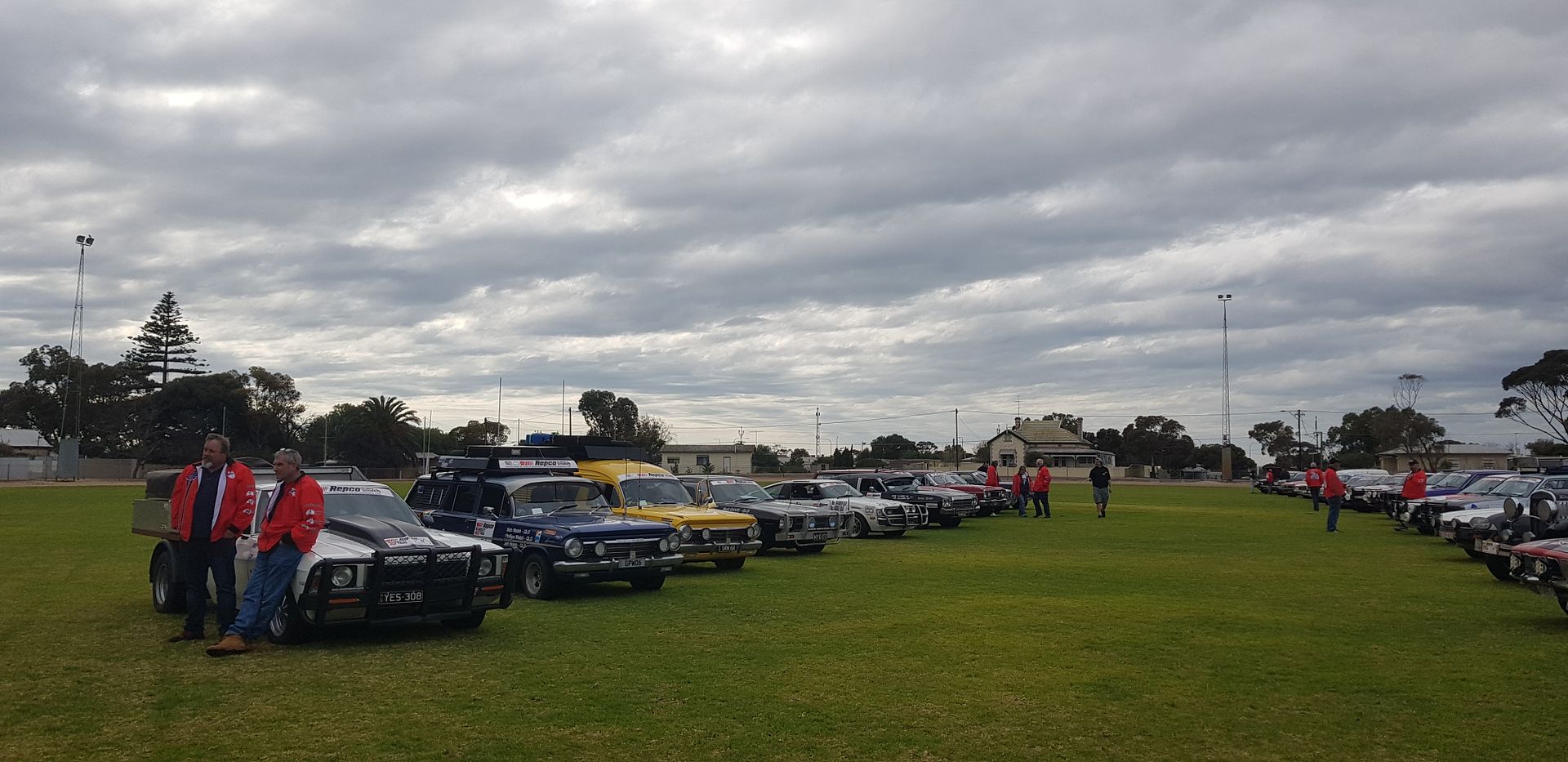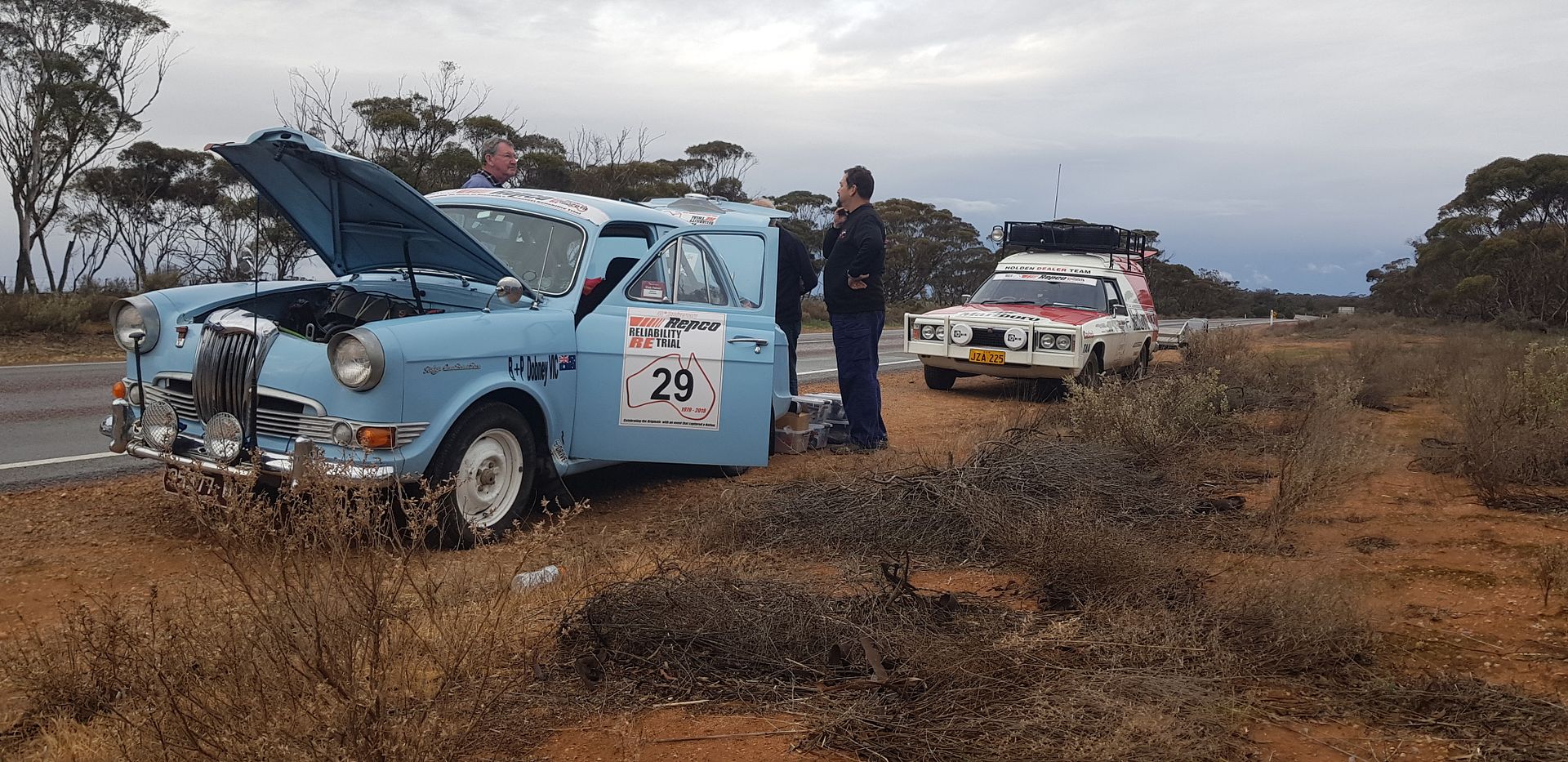 Leaving Ceduna the next morning, we only covered about 10km and the car failed to proceed again. A tow back to Ceduna to an Auto-Electrician who really only had experience and cared for working on trucks. After some fettling and with no success with modern electricity the car was converted back to points.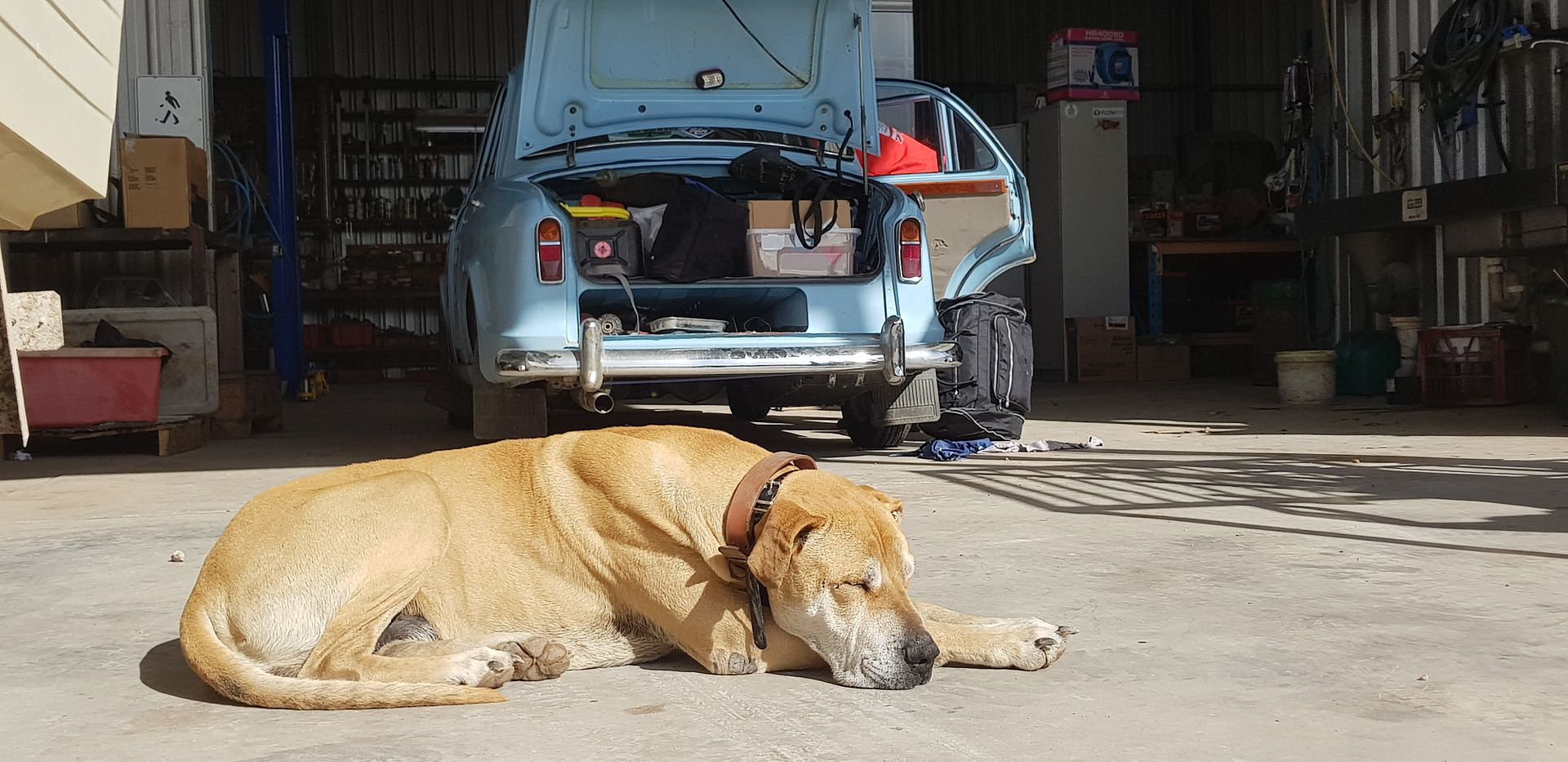 By afternoon, we hit the road again with the target of Border Village. The vast plains of the Nullabor are an amazing experience as was the sombre automotive graveyard at Koonalda Homestead. Floris nearly came to die there as well after experiencing the bone jarring 28km round trip from the highway.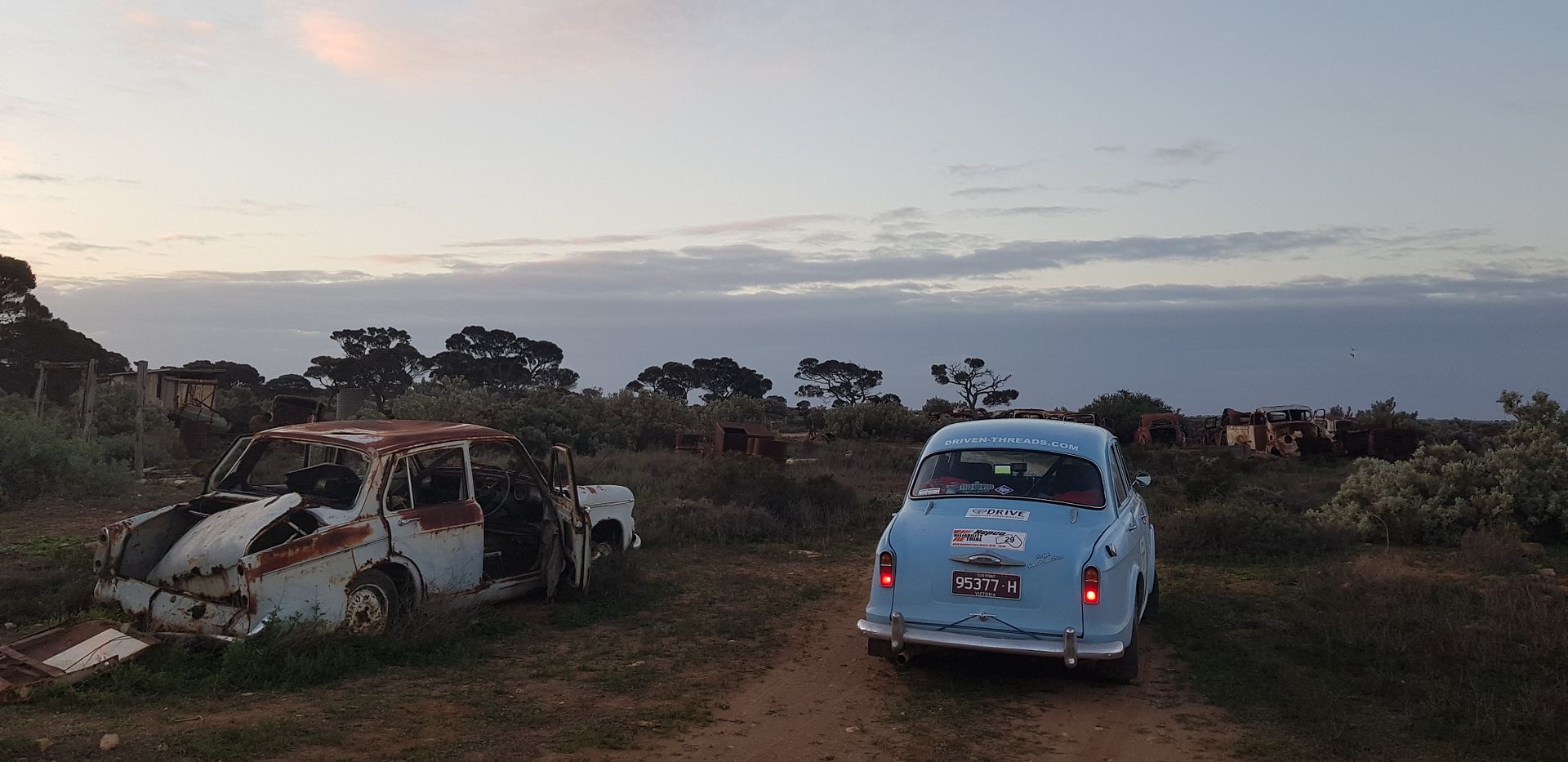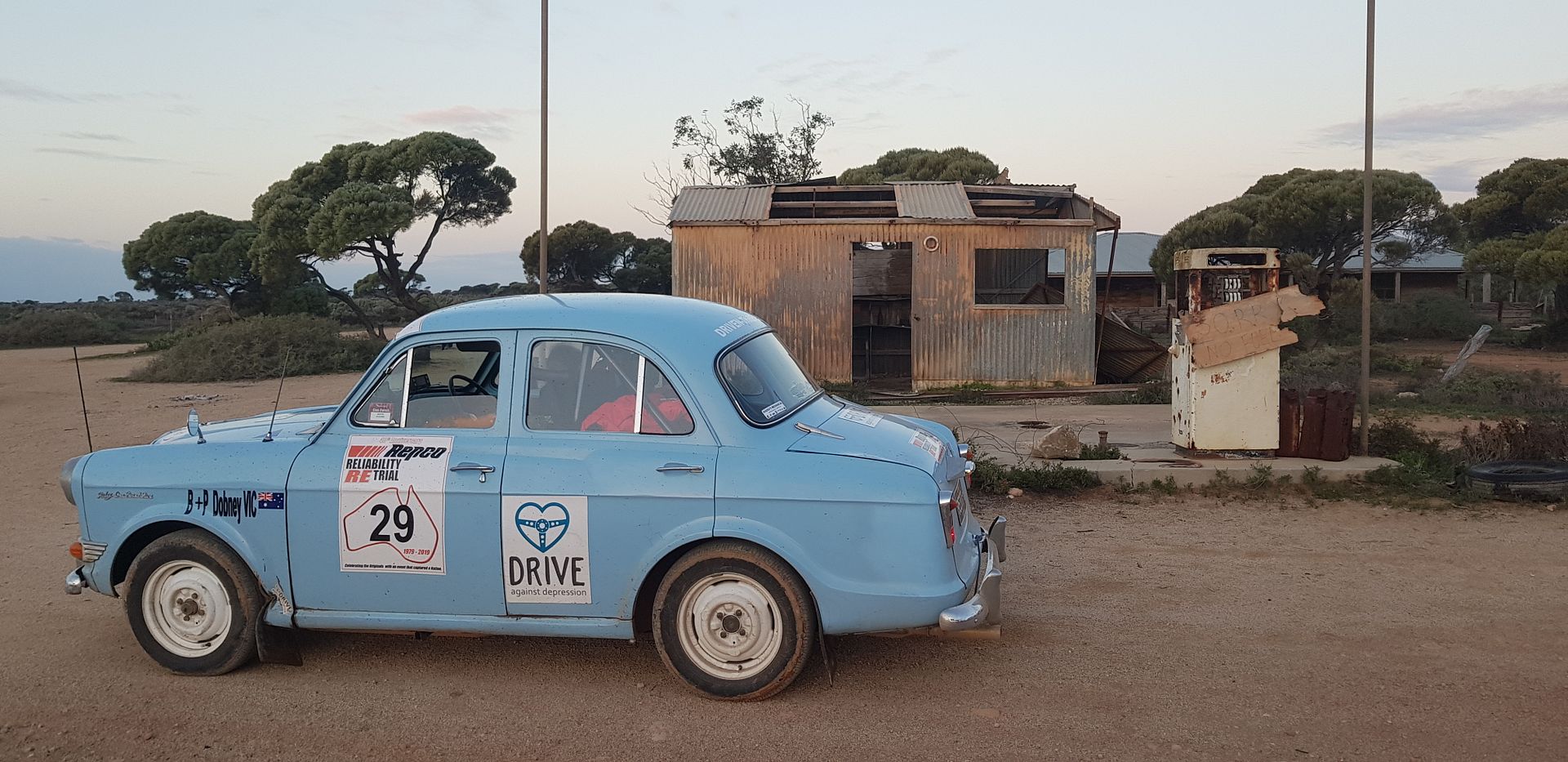 Now, you are told to never travel the Nullabor at night. No phone reception, safety, you could get murdered, and all that. So we drove the Nullabor at night, (in an unreliable ancient buzzbox) arriving at around 9pm at Border Village, SA.
The sound of Aussie rock was welcome as we left the Old Telegraph Station in Eucla the following morning enroute to Kalgoorlie. We got Floris up to 120mph on the Ninety Mile Straight. (in our dreams) Next day, battling strong cross-winds we headed 600 clicks to Perth with the end of day being the Peter Brock memorial.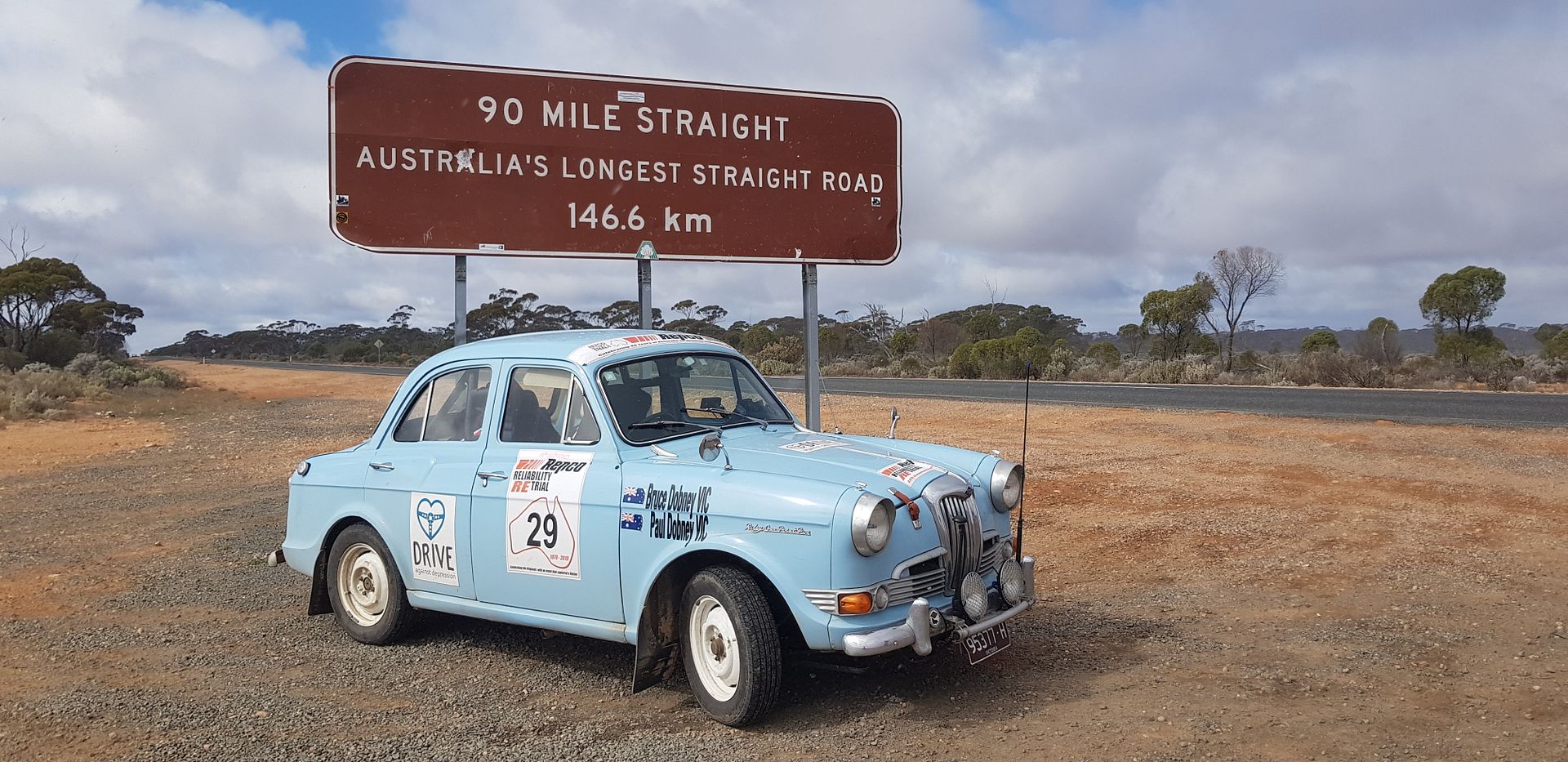 Leg 2: Perth to Darwin
A rest day was welcome at Perth, spectating at the Targa West action in the CBD was entertaining. The next day we hit the road again with sight laps at Barbagallo Raceway. We decided not to do hot laps due to some tyre scrubbing issues (from the Mil Lel spin) and to conserve the car, and head on to Geraldton.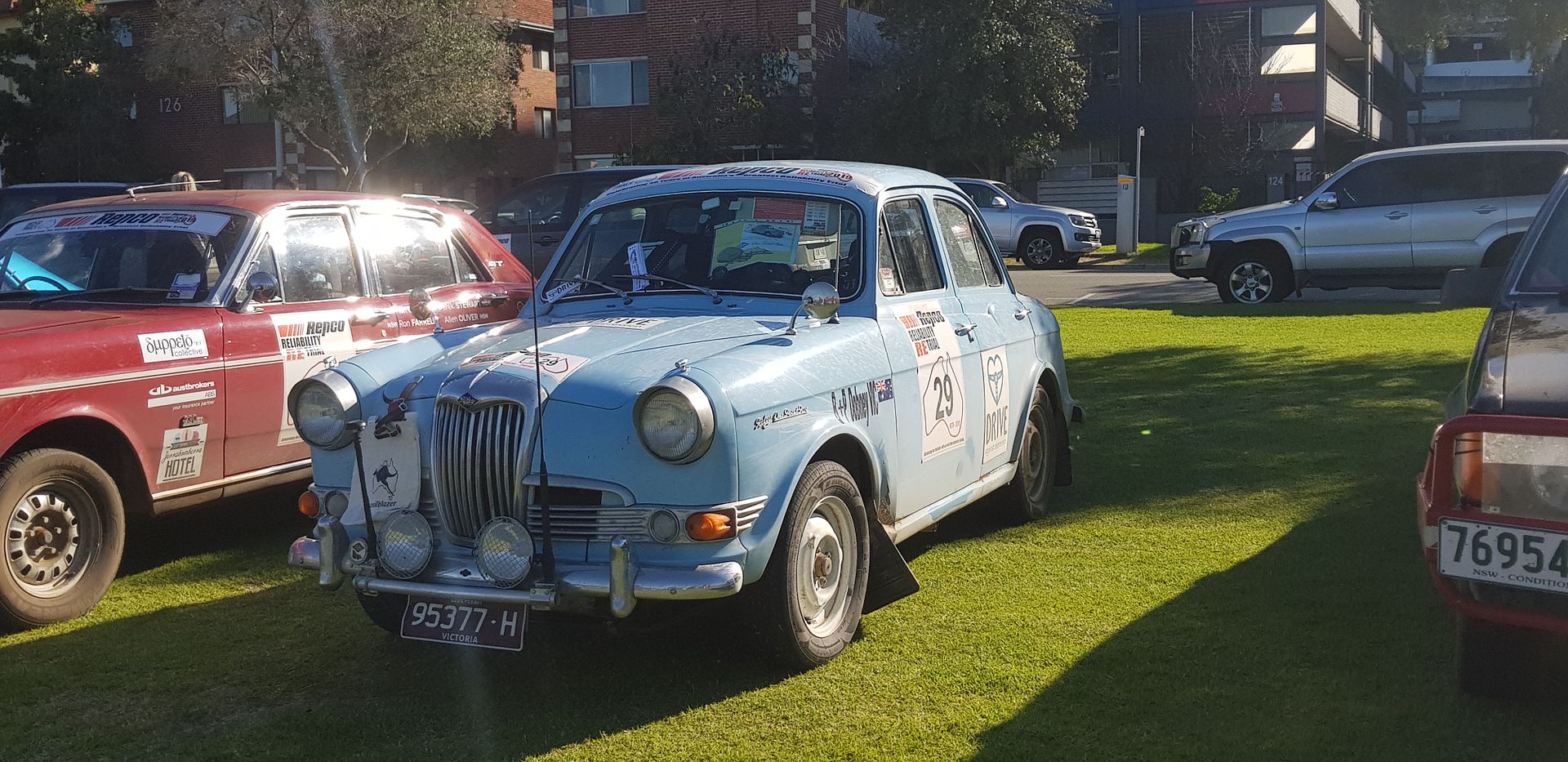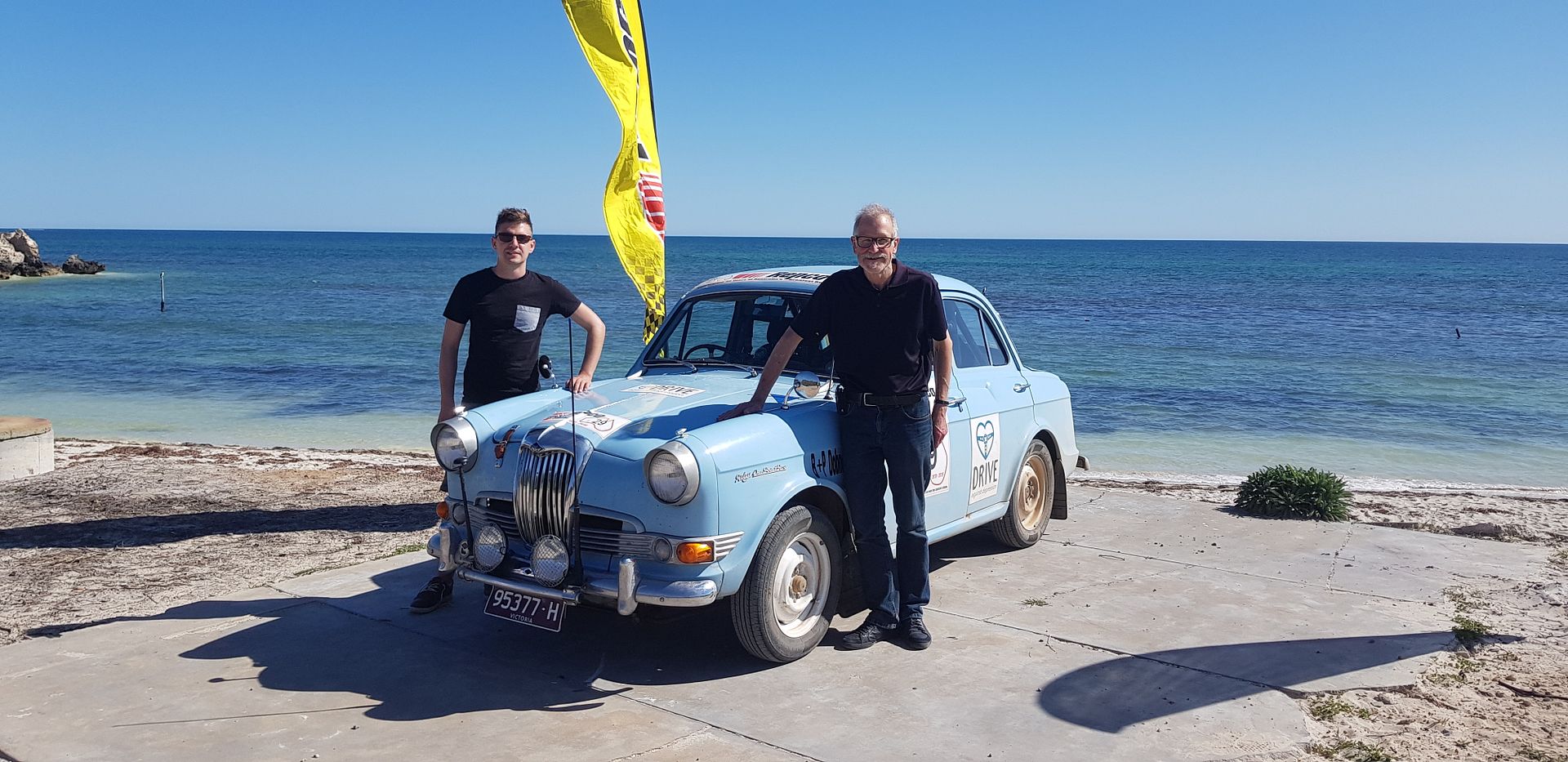 From Geraldton, day 9 was called 'Floris' to Carnarvon. We followed an original trial transport stage to Hutt River Province and enjoyed the astonishing view at Gladstone Lookout on our way to Karratha.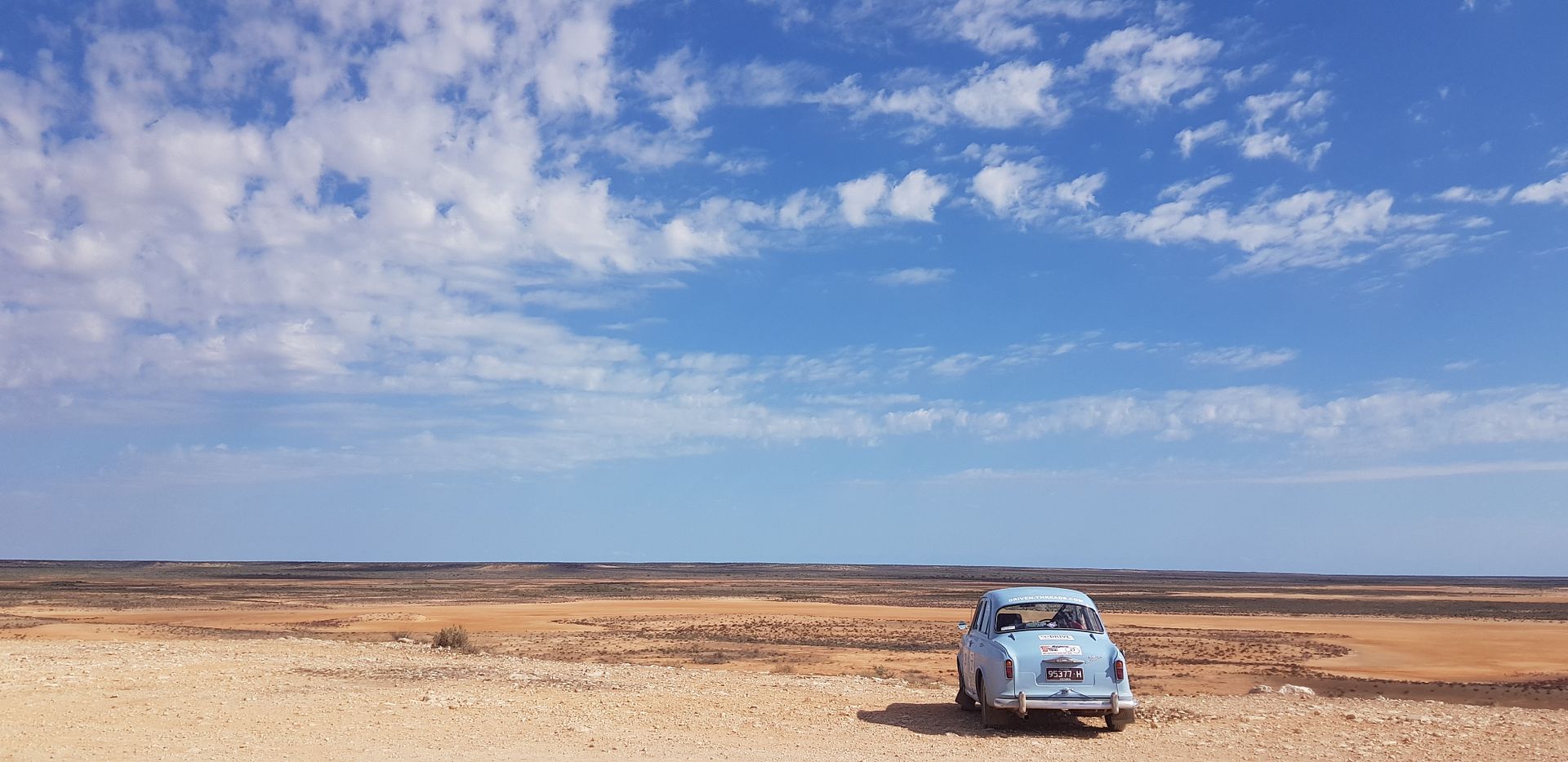 At this point we were pretty pleased with how we'd attempted most of the off-road dirty stuff. However, we did have to change a wheel from a slow leak. We learnt that the car had a sweet spot of around 105 kph on flat stuff, sure it had bit more in the tank. But we really only used that for overtaking the vast road trains and delusional grey nomads. (And occasionally to time travel back to 1959.)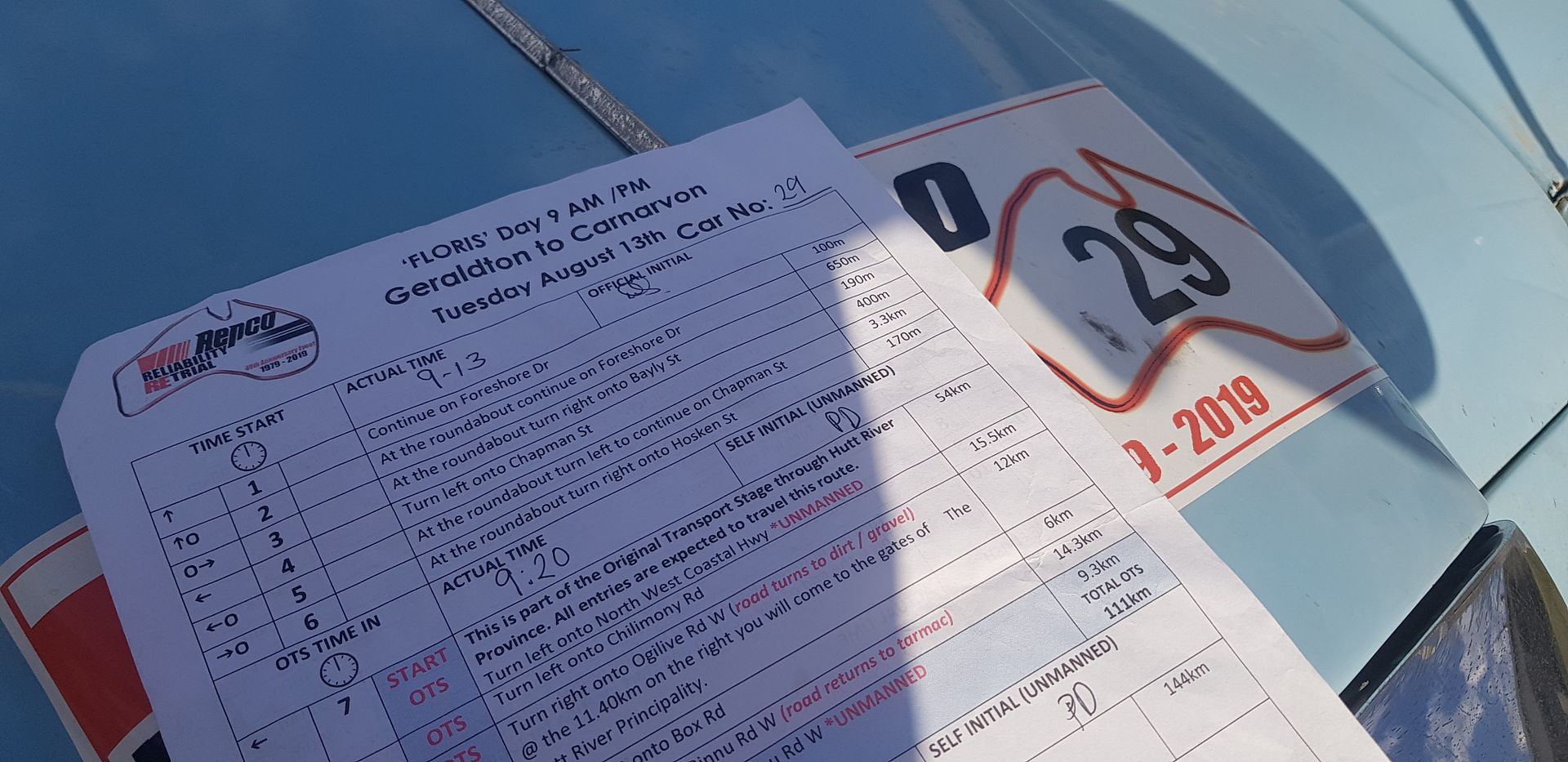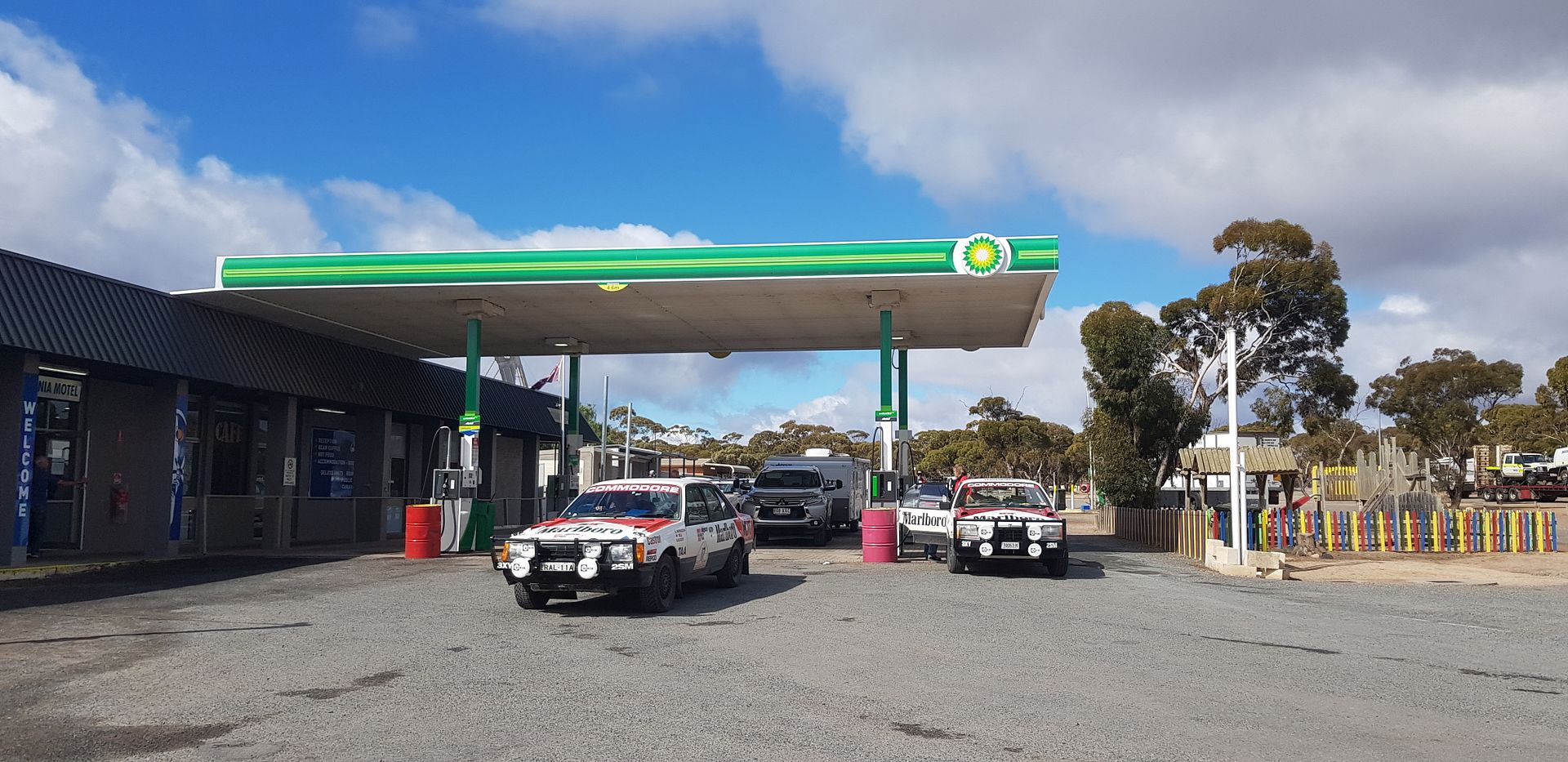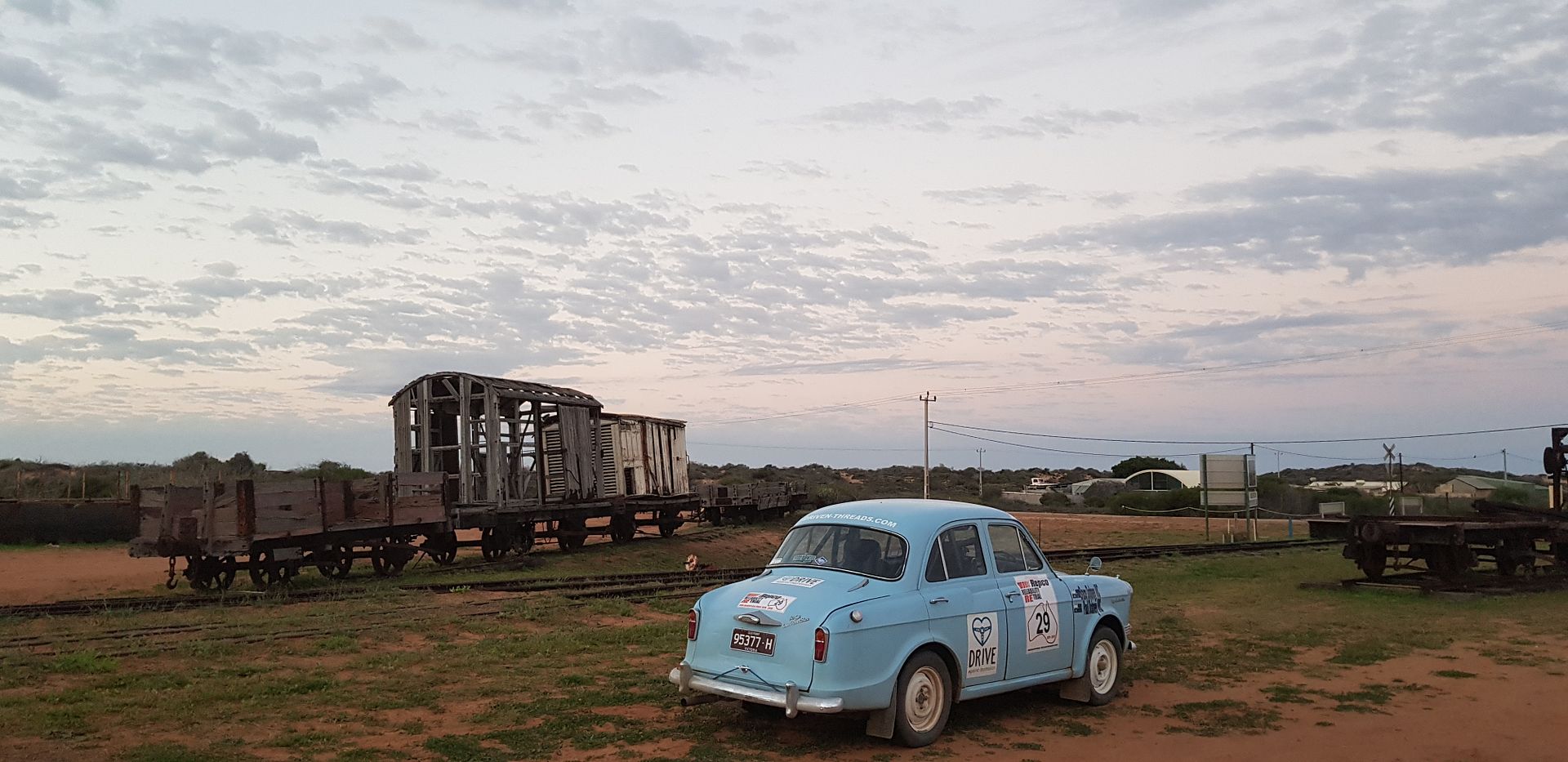 A real highlight was the relatively short drive to Port Headland via the infamous Chocolate Ruffle Pass stage from 1979. Travelling on the dirt roads leading to the pass was a surreal experience. The stage, now private property is still littered with dilapidated buses and rusted out support vehicles used in the '79.  Unlike 40 years ago, where rally drivers spent hours shifting massive boulders to make their way through the stage, we admired the view with a Subway and Chocolate Ripple Biscuit.
Broome was lovely, as we watched the golden moon and enjoyed a great meal at Matso's. Our biggest day from Broome to Kununurra….1039km via Fitzroy Crossing with 11hours and 7 minutes of sun. It was go, go, go!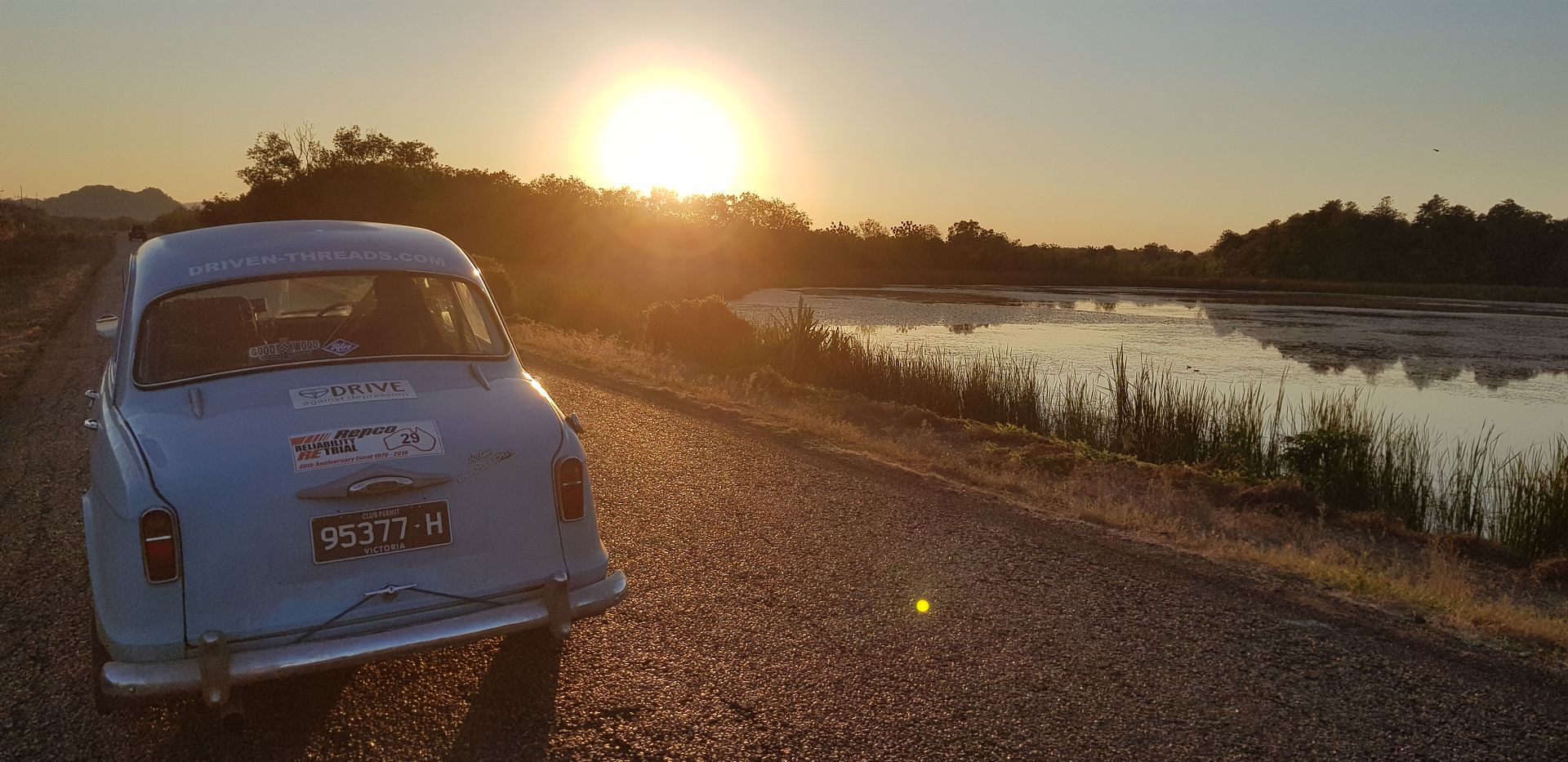 Fuel stops and toilet stops were brief with the aim of getting to Kununurra in the shortest time possible. Our limited fuel tank was supplemented with two 20 litre jerry cans in the boot. A fuel pick-up issue was now noticeable as at around the 300km mark fuel hesitation occurred. We just soldiered on.
From Kununurra we had a short 40 odd k's to the Northern Territory. After the obligatory state border snap we battled the heat and headed to Darwin via Katherine. Arriving at Darwin was a relief, reuniting with family and knowing that 3 nights of rest were ahead of us.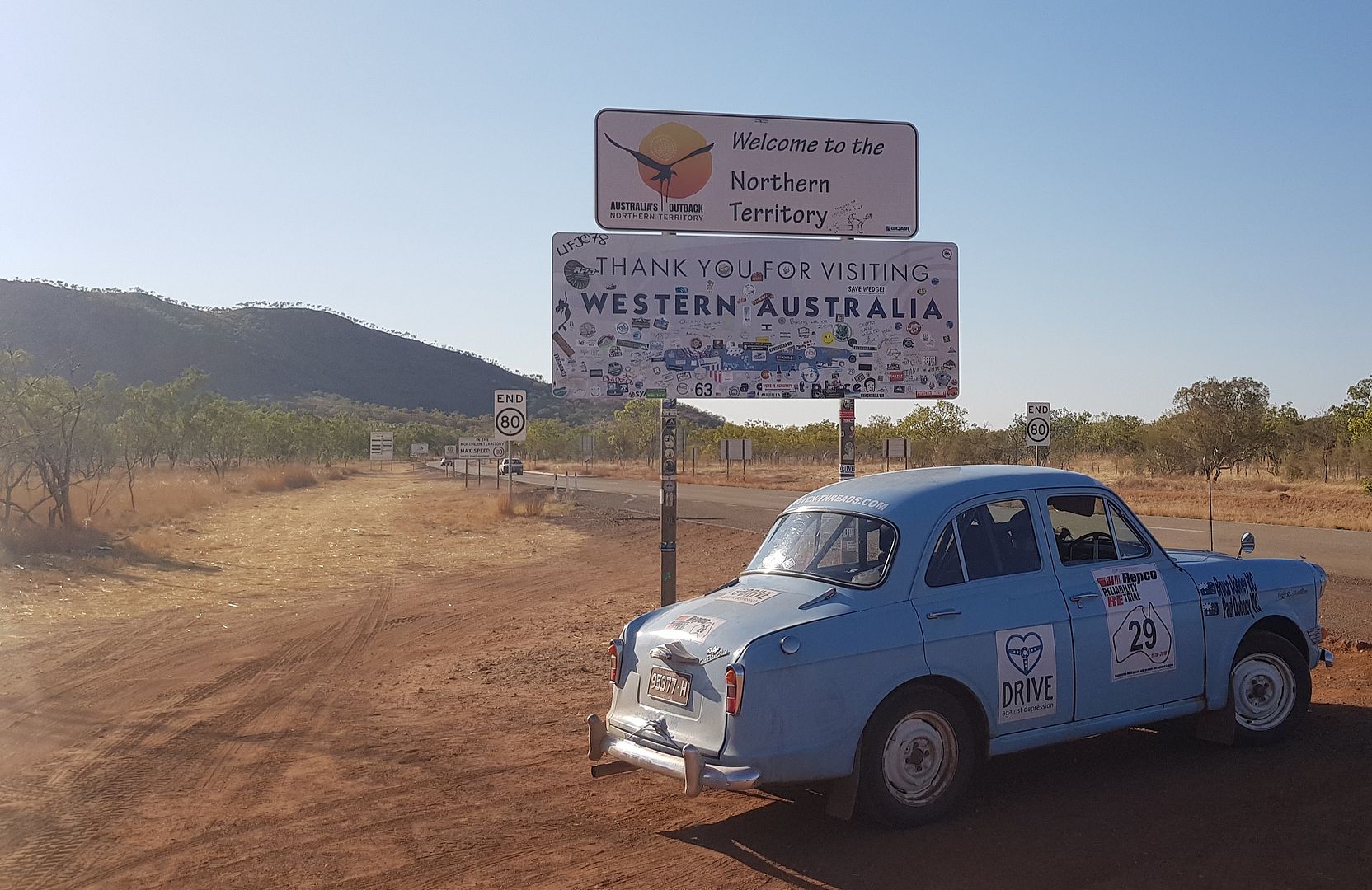 We were so pleased when we heard the news that nice chaps Mal McCann and Greg Walker (originals from the 1979 event) had made it to Darwin in their Renault 12, after a rough trot of mechanical issues.
Having made it to Darwin ourselves, kind of half way, our new goal was just to make it to the end of day location each day, with conservation of the car a priority.
Leg 3: Darwin to Cairns
After 3 nights of rest we hit the road again to make 600k Daly Waters! Daly Waters is an iconic Australian larrikin establishment. Our tip, If you're after hours of blissful and restful sleep don't stay in one of the Pub Rooms!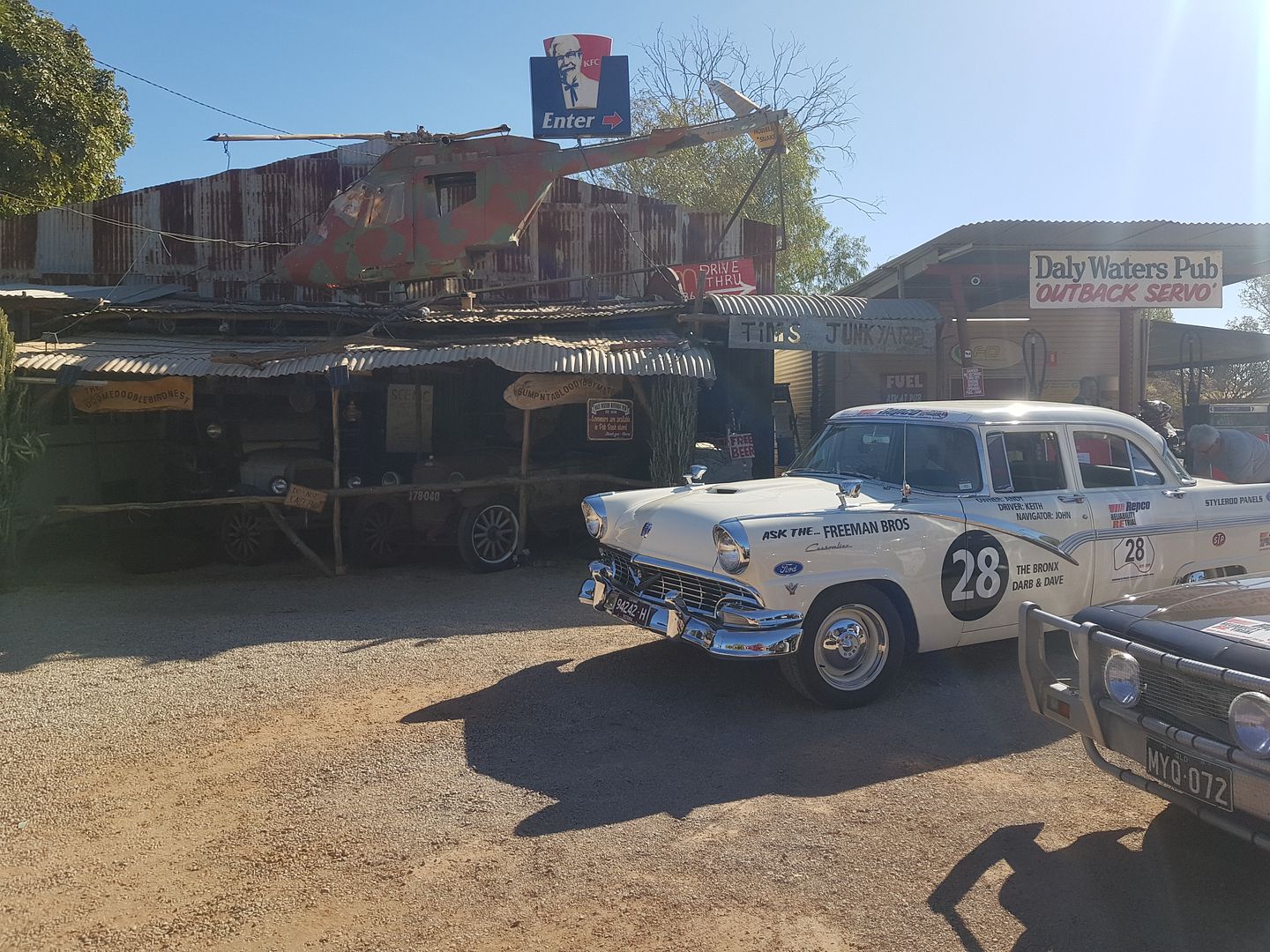 Leaving at 5:40 am, another over 1000k day from Daly Waters we headed to Mt Isa, Queensland. Many rattles were plaguing Floris on this leg. To the extent that it was embarrassing. On our rest day in the Isa we discovered that Floris had a wobbly exhaust. The Mount Isa Exhaust Centre quickly fixed the issue, graciously for $0. Genuine friendliness and country hospitality at its best.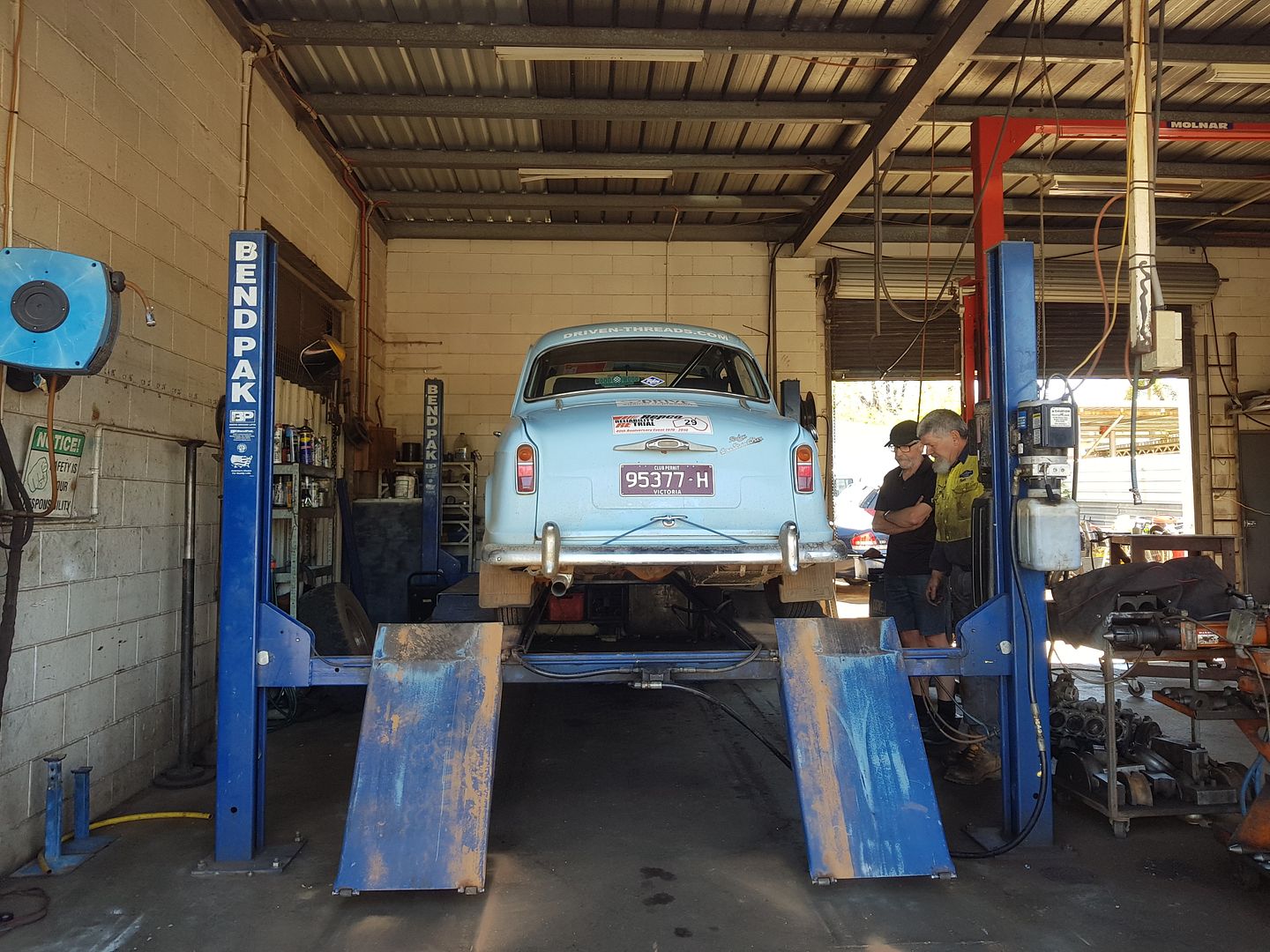 Leaving Mt Isa via Richmond, our next destination was historic gold town Charters Towers. About 50 k's enroute to Cairns on Day 21 we suddenly heard a metallic sound, as it something had come off the car. Twenty seconds later we had again failed to proceed. The banjo bolt for the fuel float chamber of the carburettor had fallen out and with no fuel, we had no go! After much cursing and looking for a needle in the proverbial haystack, we decided to get a tow back to Charters Towers. Being a Sunday, the chance of finding a replacement would be like winning the lottery. We cancelled our hotel in Cairns and stayed on in Charters.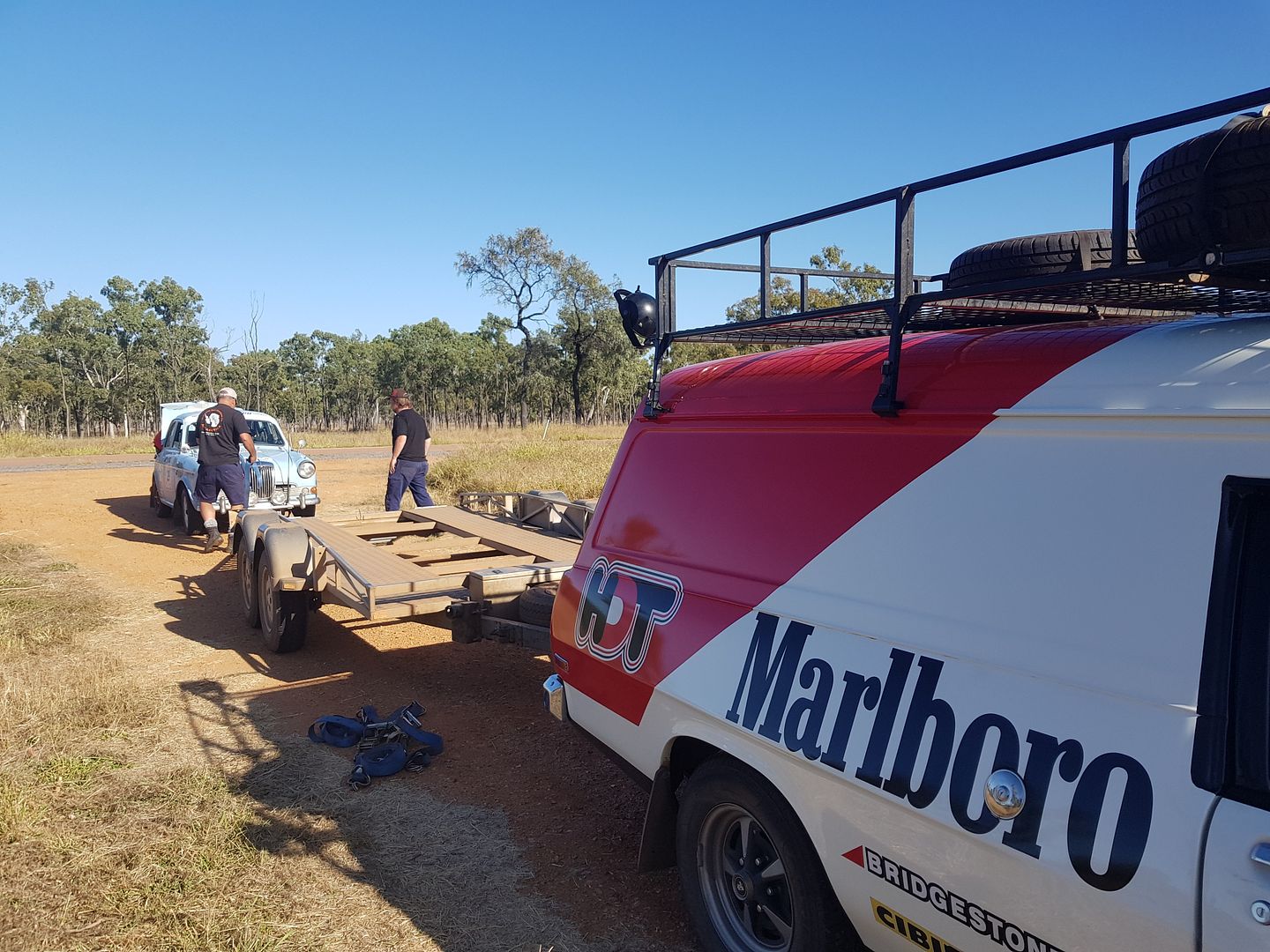 Without Aaron and Kelly from Towers Automotive we would not have got Floris back on the road the next day. We were soon on our way with a manufactured bolt as well as a second one sourced from a friend of a friend of a friend, freighted in from Townsville.
After a day and half delay, Floris was back in action. It would have made logical sense to bypass Cairns and head to Bowen or Townsville, knowing that it would be difficult to re-join the event in Cairns. This issue caused some disagreement. In the end, we threw logic out the window and drove out of our way, up to Cairns arriving after 10pm. Gillies Highway was a challenge in the dark when tired, only 263 corners covering 19kms. With no accommodation booked, we slept in the car.
Leg 4: Cairns to Melbourne
Our drive leaving from Gordonvale, just out of Cairns, was one of the most stunning. The clear sky, cane fields and mountainous landscapes were a joy. We quickly realised that we had made the right decision in re-joining the event here. Sometimes it pays ignore logic!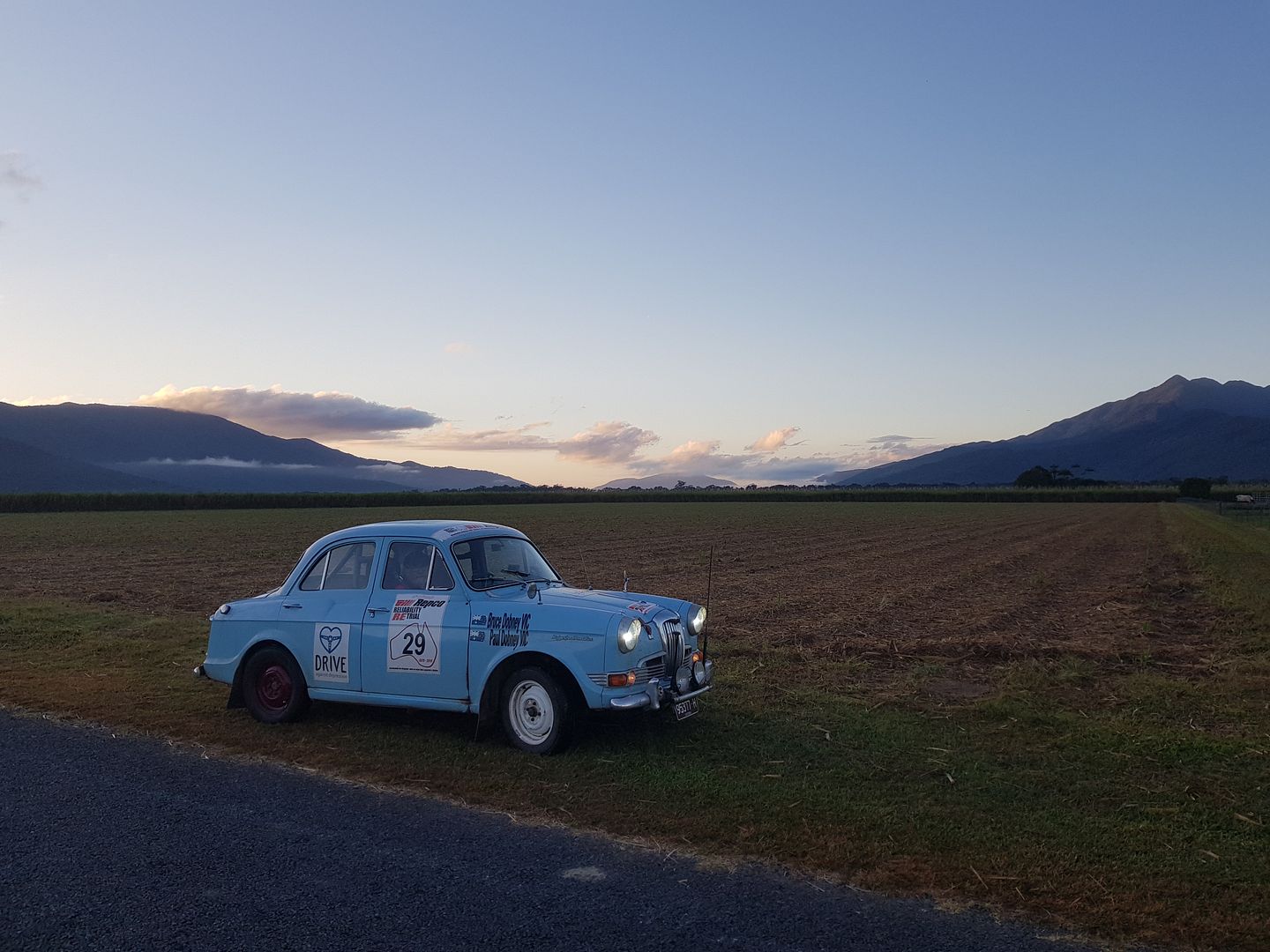 Paronella Park Falls suspension bridge was a nice opportunity to stretch the legs. Lunch at Halifax was one of the best and the Greenacres Special Stage did not disappoint. This was a timed 2.3km stage set among a farm land in Halifax with tractors forming corners and the whole community out spectating. Corrugations, fences and finally a large puddle all tested the build quality of Floris. Splash!
Onto Townsville, and a highlight was meeting Richard Kelly a '79 original at the Townsville Showgrounds.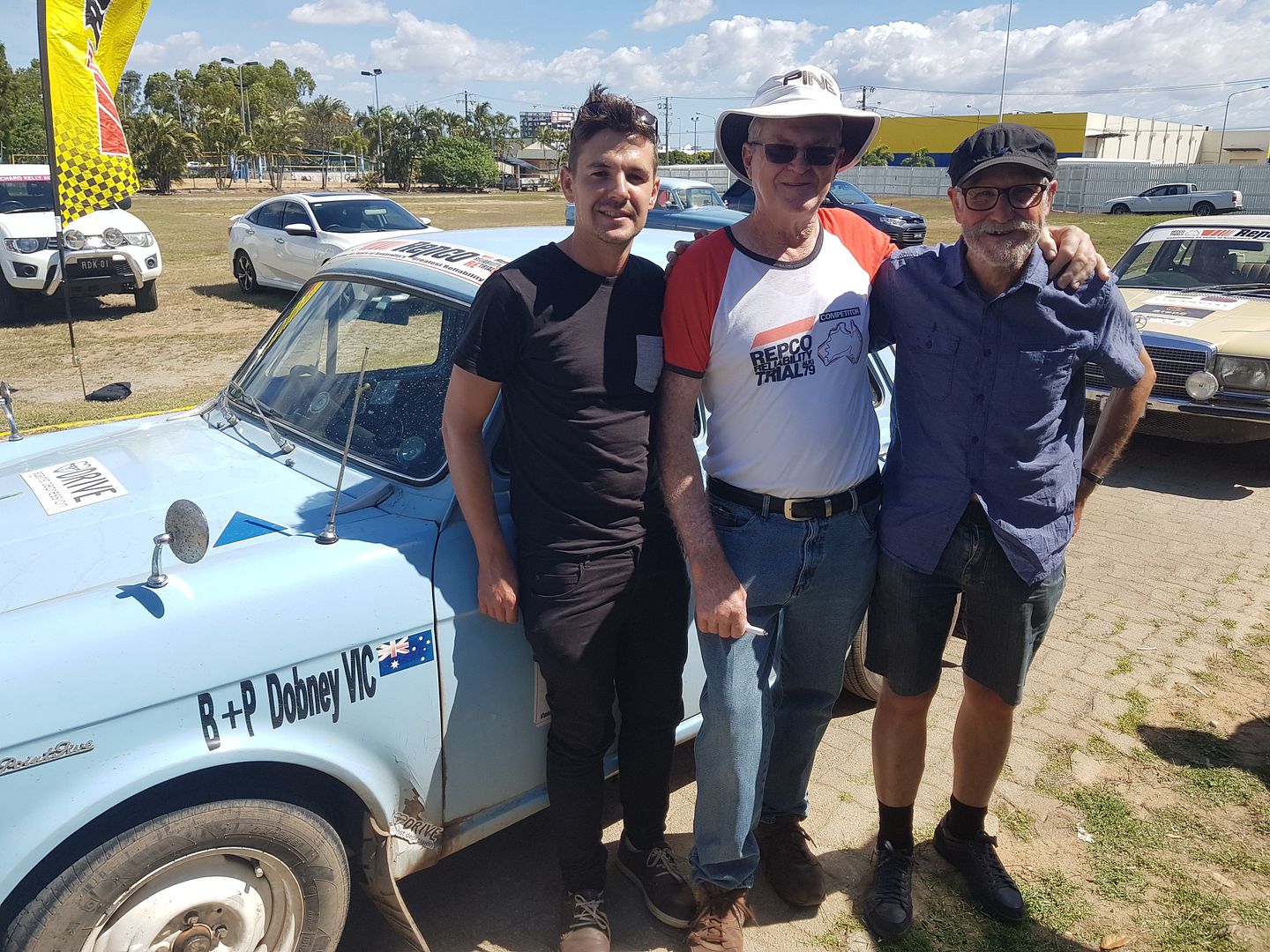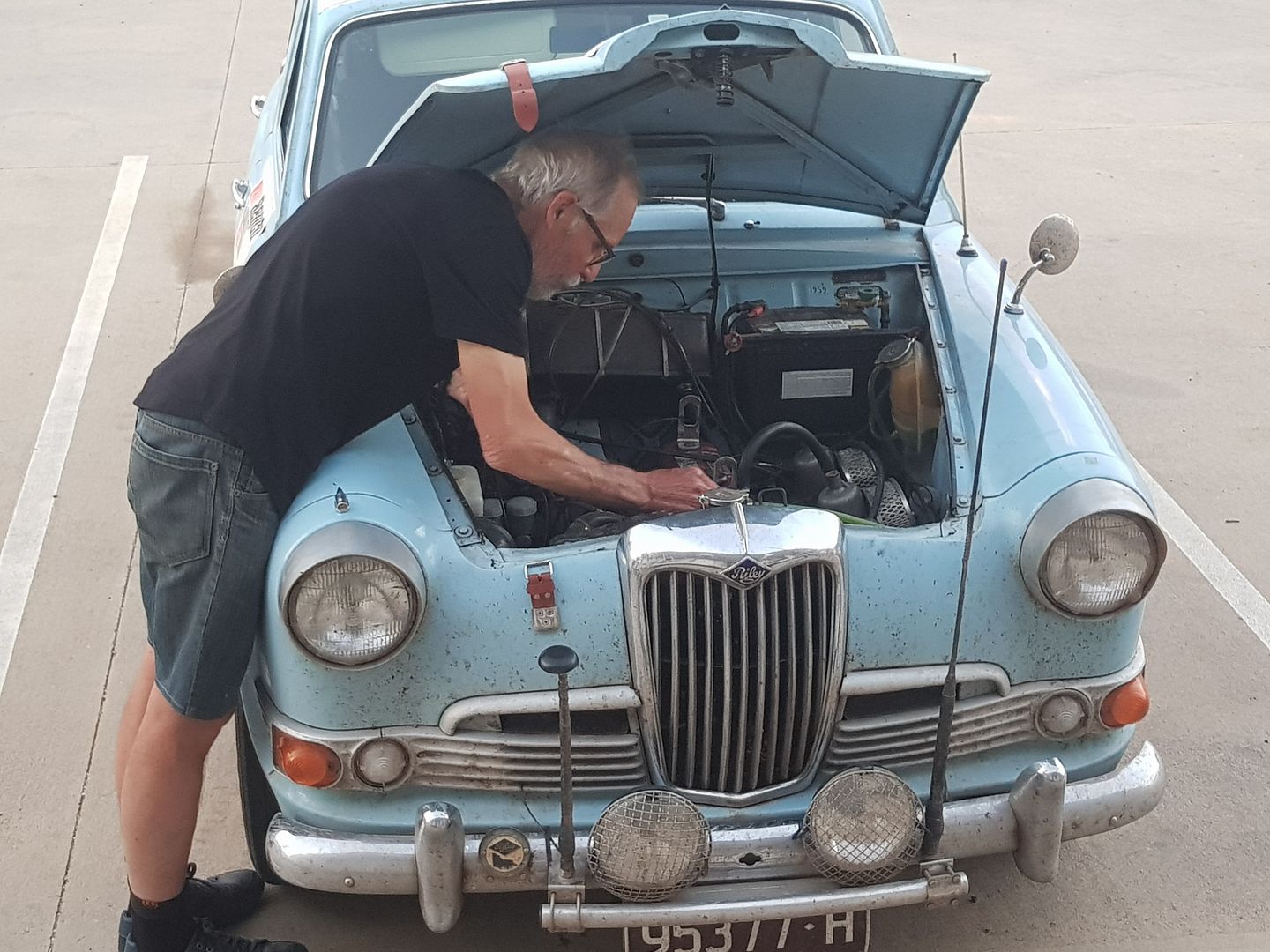 Next stop was relaxing Bowen, then on to Springsure. Enroute to Springsure we were forced to slow down whilst the road was swamped by cattle from unfenced roadside farms. How inconvenient! To add to the fun, it was here we started to experience suspension undulations from dips in the road surface. Bouncing along we somehow arrived at Lightning Ridge at the end of day 25. Kindly, the team Rollercoaster (made up of 3 KE Toyota Corolla's) support bus offered to lighten our load a relieve us of some of the heavier items. This contributed to a substantial difference to the car's suspension, handling and added 20 horsepower.
On to Bathurst, via the Castlereagh Highway we found Skippy who rather than run in front of the car sensibly decided to run along with us. Gulgong was a lovely stop over with twisty and hilly roads testing Floris on the way to the motoring mecca of Australia.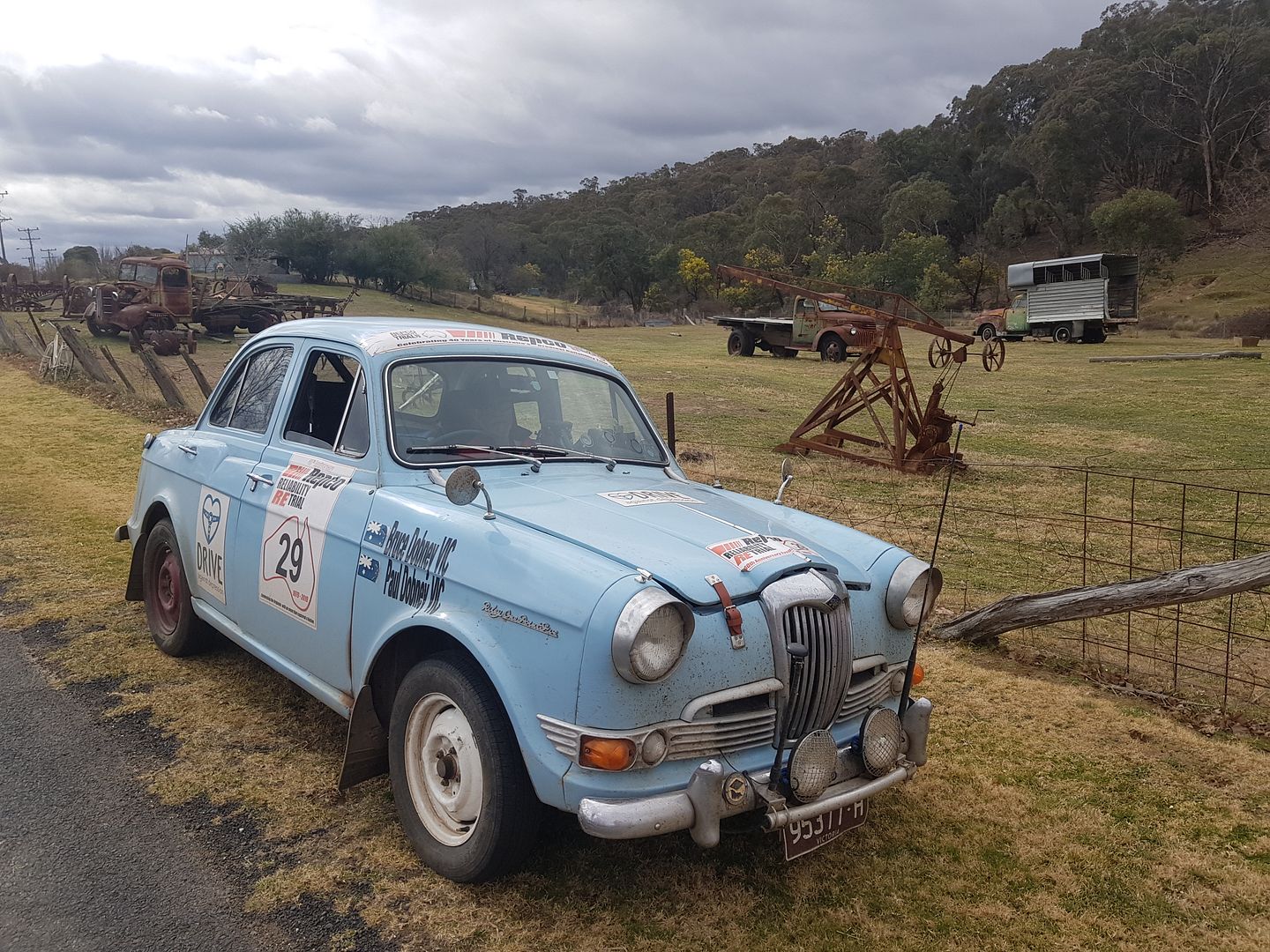 Driving on hallowed Bathurst, Floris' lack of torque was noticeable as she struggled up the confronting track inclines. I don't think we will be a challenge to the Mustangs at this year's 1000! The National Motorsport Museum was a fitting backdrop to the fleet of Commodores and array of entrant vehicles.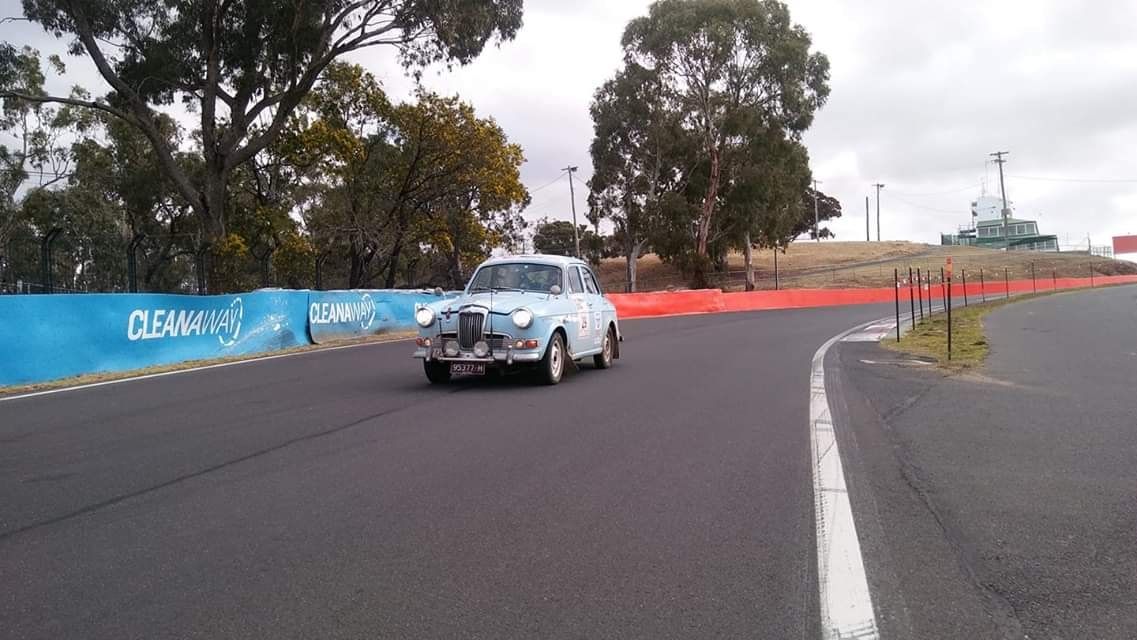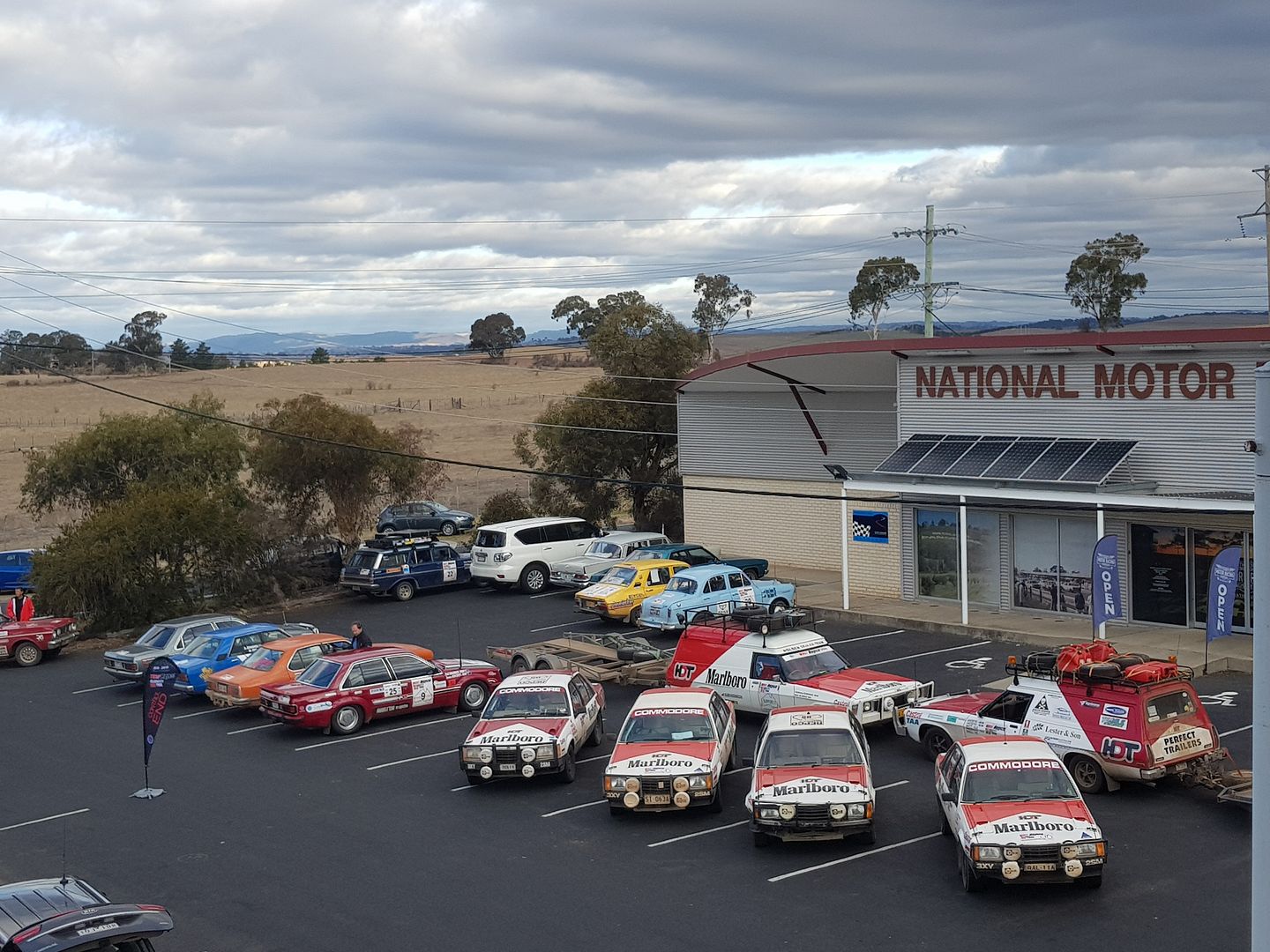 We were relieved to be back in Victoria. Floris made her way from Bathurst via Canberra outskirts and into Cooma. The Cooma Car Club kindly hosted us for lunch in their stately club rooms. We had fun on the last New Trial Stage, soaking up the last dirt roads on the adventure.
Arriving in Lakes Entrance we had one more sleep till the epic finale. The end of our 15000km adventure. An easy 300 odd k's was all that remained to get us to our orchestrated finish back at the Melbourne Showgrounds. We had made it! The sense of relief and accomplishment was overwhelming. The car was a mess, inside and out and smelt like a farm. (one day the car got covered in excrement from a cattle track) But, we had made it!
Whilst there were no sheep stations on offer, the official winner of the event was Barry Ferguson. A fitting tribute to a gentleman that was instrumental to Holden's success 40 years ago.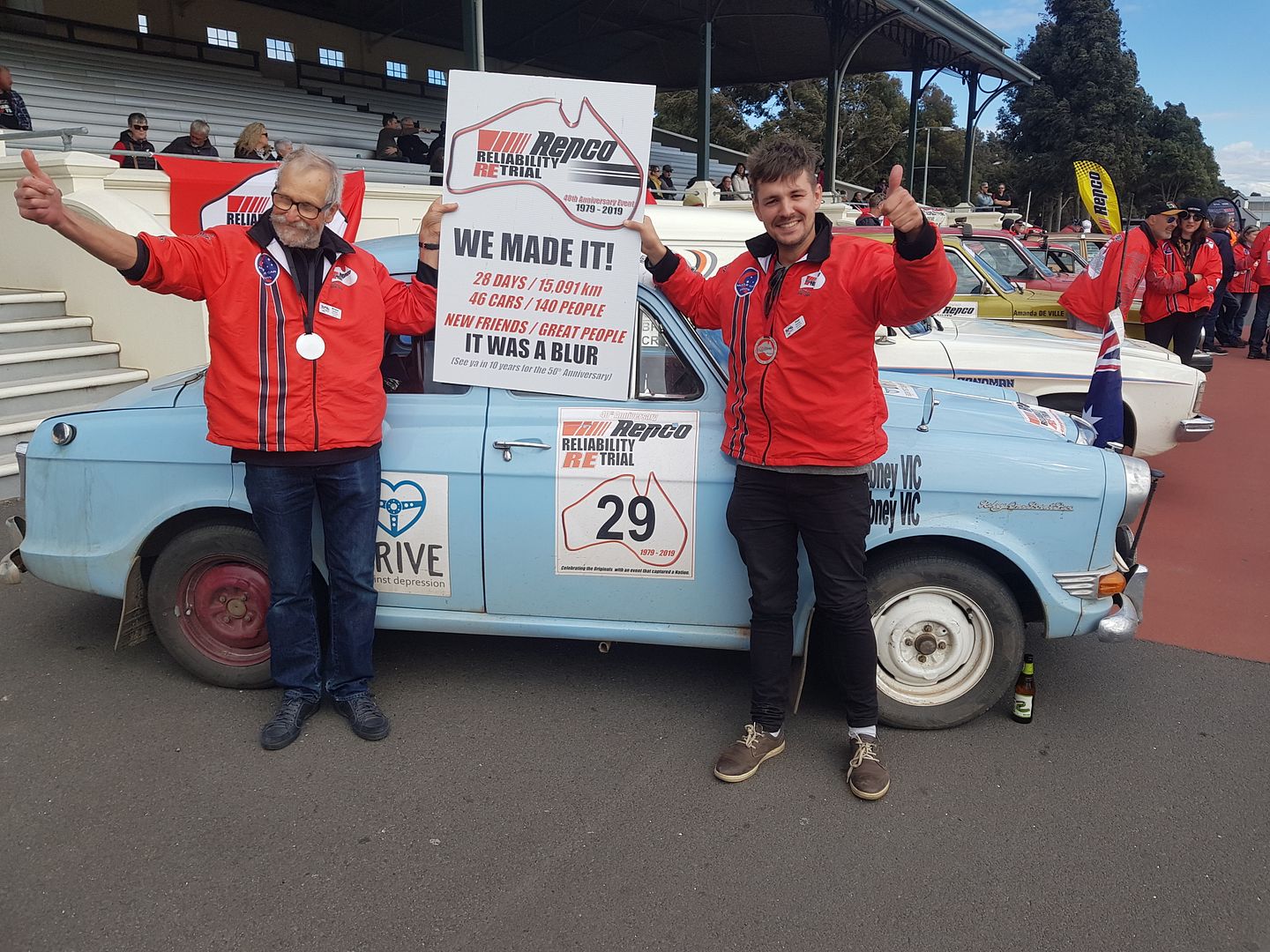 Final thoughts
Regrets. None. Extracting the most out of a slow car is rewarding. And atleast we were faster than a Renault 12.
The highlight of the event was meeting and spending time with the original participants of the 1979 Repco Retrial. Likewise, it was a pleasure meeting like-minded car people who also thought that driving 15,000km in 28 days would be a good idea.
Dad and I would like to thank Val and Jane Dobney for their support in the lead up and during the event. We would like to acknowledge the outstanding efforts of Todd Martin and Muscle Car Events, and all management and support crew who had our back for the 28 days of the 'rolling feast.'
Brian Glass for lending us the red spare wheel, which we needed. (and looked fabulous in pictures)
Thorpe Remfrey for lending us a spare axle, which thankfully we didn't need.
Team Roller Coaster for carrying our heavy things and the Brothers McKee for organising a raffle to support Drive Against Depression.
Mount Isa Exhaust Centre and Towers Automotive (Charters Towers, QLD) for your professional services.
Thank you to our Facebook followers who we shared the journey with.
And finally, thank you to everyone that donated to Drive Against Depression. Mental Health awareness is important to both of us and we are proud to have raised over $2,500 to support the initiatives of Drive Against Depression.
So, Floris might just be a keeper. Will Floris continue to do long distance escapades?…watch this space!
Visit Drive Against Depression